L`Atelier Catherine Masson
Welcome to the perfumed world of Catherine Masson!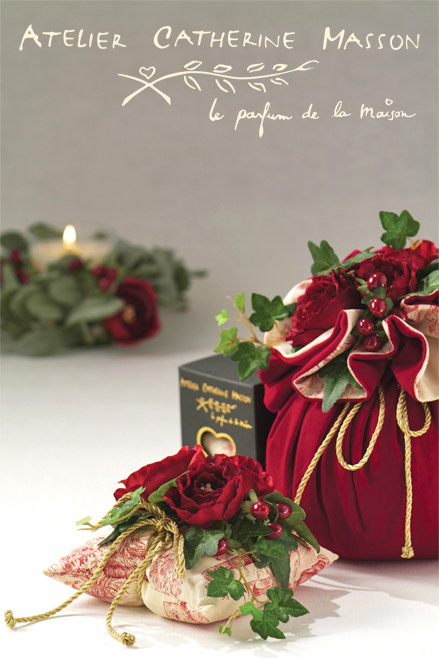 We have extended our gifts range with truly excuisite and elegant items from a brand from France.
If you are looking for a gift for a lady that has appeal to romance and beauty, L`Atelier Catherine Masson tasteful items is the right choice.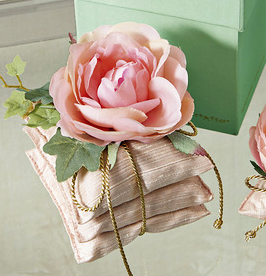 Brand products mean the symbol of life full of beauty and elegance. Articles of French L`Atelier Catherine Masson combine delicacy of fragrances and nice matter with perfect designer's craftsmanship of handiwork in one product.
In the very beginning of its creativity L'Atelier Catherine Masson sold aromatized little cushions made manually to accompany perfume articles of leading French perfume houses, such as Yves Saint Laurent, Christian Dior, Molinard and Caron.
Today masters of L`Atelier Catherine Masson create unique items from fabric and natural vegetable fibre, for example, flax, silk, cotton or velour.
Collection of the brand include handmade cushions with embroidering, splendid pouches, little sacks of various sizes, pyramids and artistic small bundles, filled with perfumes and decorated with artificial bunches of flowers and fruits more real than nature.
In the heart of French Provence, perfumers of Grass region, motherland of French Perfume, created 12 unique scents for perfuming collection of the atelier.
Elegantly decorate and subtly perfume interior.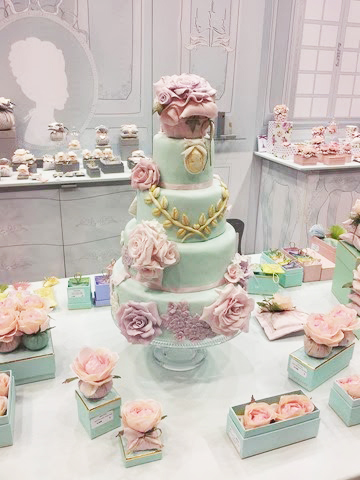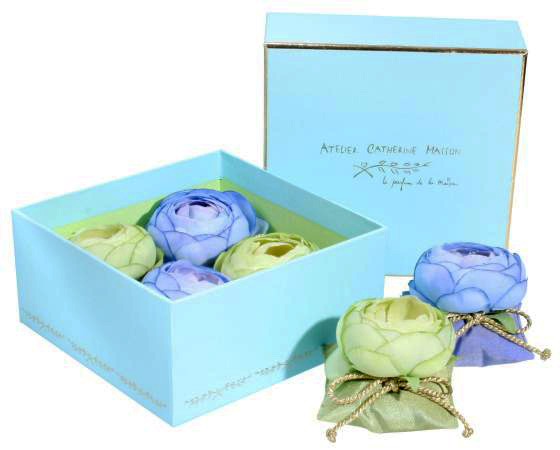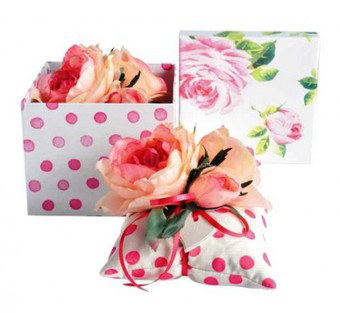 New service – flower delivery with indicated mobile telephone number and Name, Surname of the addressee only!
Flowers and gifts to public, corporate events, contests, competitions, parties, theatre, disco, opera and ballet, dance parties, dance shows, fashion shows and weeks, ofices, concert halls, airports, railway stadions, bus stadions, hotels, guest houses, saunas, spas, stadiums, sports halls, exibitions, opening ceremonies.
Flowers for celebrities, musicians, actors, actresses, polititians, entrepreneurs, pop stars, movie stars, artists, fashion designers, sportsmen, sports teams, winners of cups, medals and diplomas.
Customer Feedback
Wow, highly impressed and satisfied.
Kudos and big thanks! Web site is user friendly and experience is smooth, most of all great quality of products. Very impressive, keep it up! Although i always worry for online flower orders, the result was super satisfactory. Many thanks once again.
Twil
Thank you very much. Great services: fast, reliable and very customer friendly. This is my third year. I am moving around the world, but keep coming back to send flowers and presents to my friends in Riga. Really recommend ZieduVeikals! Great job, nice designs.
Hello!
Good Site! Thanks you!
Fantastic!
I ordered more than once flowers and other presents and everything is delivered in a perfect way, right on time! Great service and very affordable!
2006
2008
2010
2012
2014
2016
2018
2005
2007
2009
2011
2013
2015
2017
Flower delivery to Riga and Latvia -  ZieduVeikals.lv
Zieduveikals.lv (Flower Shop) Guarantees
Zieduveikals.lv guarantees that the addressee will receive ordered flowers and gifts on time and this will bring them joy and plenty of happiness!
Flowers Delivery and Gifts
For full description, please, visit Terms, Conditions and Practicalities of Flower and Gifts Delivery
Delivery of Flowers to the day is possible only if the order is made by 15:00 (Latvian time).

We do not deliver Flowers on official holidays in Republic of Latvia .

We do not guarantee delivery of the order at certain time.

The client is fully responsible for the correctness of the address indicated.
Quality and flowers
Our supplied flower arrangements are only part of the very wide variety of  assortments  that is given to us by nature. Our professional florists do our best while fufilling this form of beauty. Although we do every arrangement like it was new and unique work of art, at finish it looks comparable to the sample on the picture.

Sometimes we meet the situation when in distant Latvian towns some flower may not available for the bouquet that was ordered. Our staff do their best to make substitution of flower that will correspond to the amount paid and will be in similar color and assortment as well.

We always deliver the freshest of flowers to recipients, but its further care depends upon the recipient him/her self.
You may pay by
•  Credit card EC/MC, VISA, VISA Electron, Maestro, American Express
•  Bank transfer
•  Cash
•  PayPal
At the page that is connected with First Data Centre you will be asked to fill in your credit card data. Security of this page is strongly controlled and guaranteed by First Data Centre. Your information is not available to anyone from the bank and we only receive the bank`s response about your payment`s enrolment into our account.
Latvia is the country, where the summer lasts only three months. All the more reason your beloved person will always appreciate beautiful flowers! Order now!!